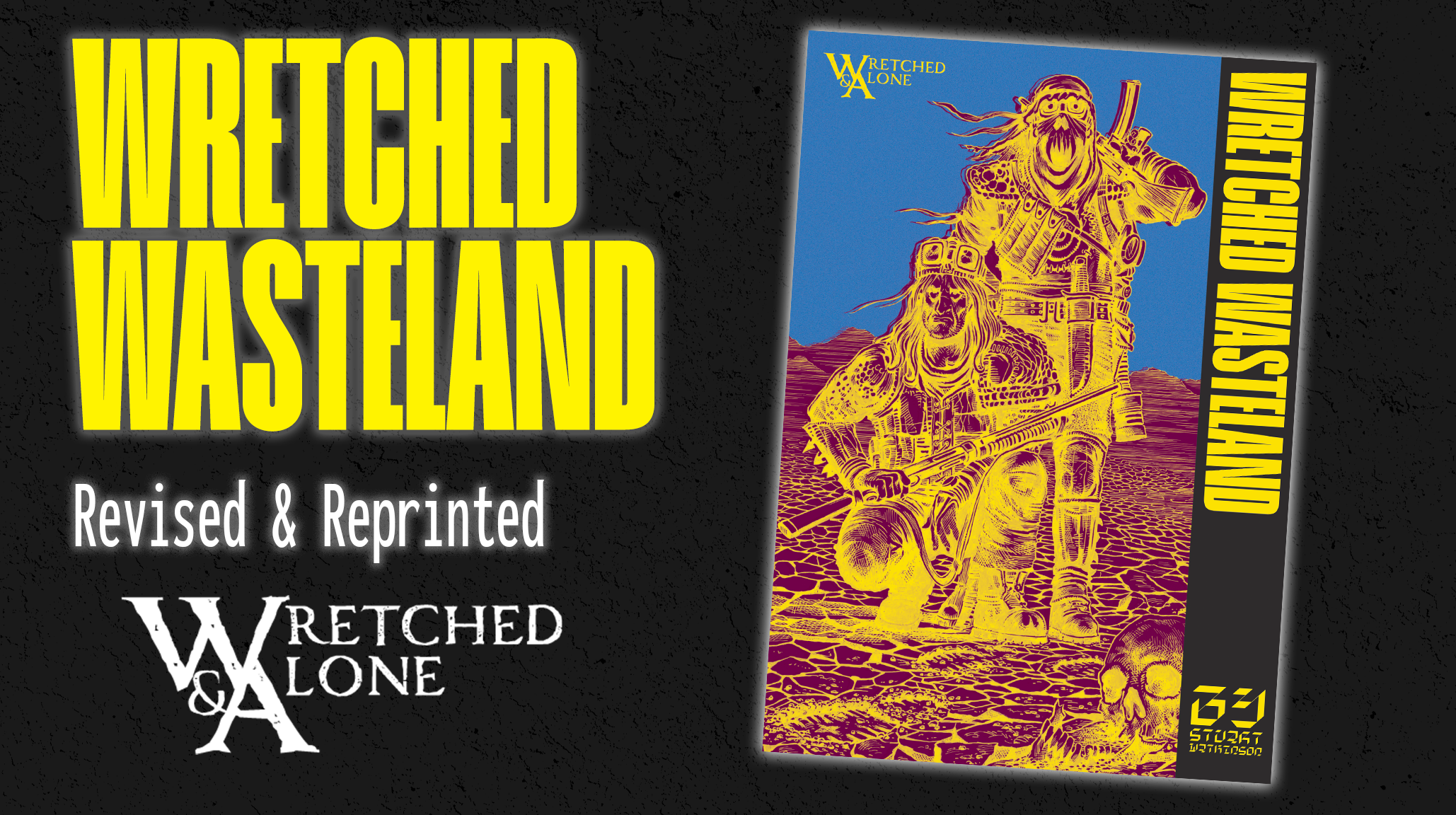 Wretched Wasteland
REVISED AND REPRINTED COMING TO KICKSTARTER!

Wretched Wasteland is a game about survival. Survival in a world torn apart by war. It is a game about the few people that still inhabit the Earth and the dangers they face.

Your character is a scout from The Compound, a small bastion of civilisation. As a scout, you have seen what the wasteland has done to people. How it has infected their minds and turned them into murderers, thieves, and cannibals. You know what horrors exist out in the wastes.
A scout knows that patience and a slow pace are key to survival. However, you must move at a dangerous speed to make it back in time. They also know that the wastes take a heavy toll on the mind and the body...
Traverse the wasteland and try to survive. That is your job.
There is only one way to win, and many ways to die.
Content Warning
While this game is for fun it does deal with some dark themes. It contains violence, death, starvation, rabid dogs, and cannibalism. It is about surviving in a horrible post apocalyptic future. It is unlikely you will not be successful with your journey, without lightly modifying the rules. But this game is about the narrative that a scout in the wastes experiences however, it is not all doom and gloom. There are little gems of beauty in the wasteland. If you pull a card that doesn't fit well with you, that's fine. Just skip it.
What do you need?

To play you'll need a standard deck of cards with no jokers, a single 6-sided die, a tumbling block tower, and token of some kind to mark your progress on the map. You will also need some way to record your journey, a book, microphone, or a camera.
This game is based on the Wretched & Alone system, and was made for the Wretched & Alone Jam! It takes inspiration from video games Fallout 1 & Fallout 2 by Interplay, the music of The Goondock Saint & Mark Morgan, and books The Postman by David Brin, Earth Abides by George R. Stewart, and The Gunslinger by Stephen King.
Purchase
In order to download this game you must purchase it at or above the minimum price of $8 USD. You will get access to the following files:
Wretched Wasteland 1.2.pdf
3 MB
The Map for Printing.pdf
129 kB
Exclusive content
Support this game at or above a special price point to receive something exclusive.
Community Copies
These are for anyone who feels they need one, no questions asked.